While this doesn't offer scanning a barcode and connecting directly to the Internet, it does give every piece of luggage an electronic identifier.
By having people type in the barcode number on a website, versus scanning, the application can be used by anyone.
Maybe this should be a wake-up call to the physical world connection players
.
American Express offers a new physical world connection application that will come in handy with the new Transportation Security laws.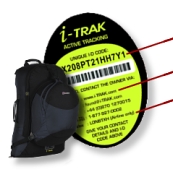 Insurance provider American Express (Amex) has advised its customers to use a new technology option called
i-Trak
to help protect their luggage.
Customers can attach i-Trak labels, which carry a personal barcode, to their luggage, enabling people who find the bags to
track the owners using the internet, text or an airline's telex system.

The Unique I-D Code makes the item (phones, cameras, laptops, passports) identifiable to you.
The Finder can contact you by logging on to the Internet, sending an Email, or phoning the 24 hour call centre
If your item is found by an Airline, they can contact you via their internal Telex system