From Digital Lifestyle
Barablu offers free mobile to mobile calls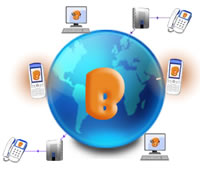 A new service,
Barablu
, launches today claiming to offer free voice calls and text messages between mobile phones.
The phone
handsets that work with this service must support WiFi
- and Barablu have gone to great lengths of draw this to our attention.
Simply get a WiFi-enabled mobile phone, put the Barablu software on and you're able to chat freely to anyone else on their service, no matter what platform they're on.
Like other VoIP offerings,
Barablu offers the ability to call people on 'normal' landlines who aren't on their network - at a charge