From PR Web
OTAir introduces mobile text messaging marketing service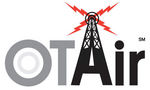 OTAir LLC, a Richmond, VA based mobile marketing and media firm, announced today the introduction of
mobile text message marketing
products and services for businesses and consumers.
Now available nationwide, OTAir enables consumers to actively engage a company's marketing media to receive an immediate incentive, such as a coupon, or for further information. The SMS or text message
responses are trackable by the advertiser in real-time
while maintaining mobile user privacy.
Jim Washok and Chris Littleton, co-founders of OTAir, explain their suite of initial services. "TXTmarkTM is our core product that permits customers to actively engage a company's advertising by using the text messaging feature of their cell phones," says Washok.
"For example, if a fast food restaurant wants to offer a discount coupon, they
simply add their reserved keyword and the OTAir short code
to their advertising, instructing prospective customers to 'Text Burger To 68247 (OTAIR) To Receive A Discount Coupon' ".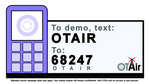 "The interested customer simply sends a text message", continued Washok, "and within a minute, receives a text message reply that is a coupon. The customer then goes to the restaurant, shows the text message, and receives the displayed discount. It's that simple."
For more info text OTAIR to 68247