How is a text messaging campaign like the razor business?
The task on last night's The Apprentice, was to
get as many people to text a keyword to a specific shortcode
. Gillette is introducing a new 5 blade razor called Fusion, and Donald Trump wanted to see what kind of mobile marketing campaign could be created using text messaging (SMS).
I don't know if Mark Burnett or the mobile marketing company that was used
realized the analogy here
before hand, if so, kudos. I doubt it based on what they did with this opportunity.
A mobile marketing campaign is very similar to the razor/blade business model
. You give away the razor and make money on the recurring blade sales. With a text messaging campaign, you must give the consumer something in order to get a him/her to initiate connection with a text message. The initiation of the text is called the "pull" part of mobile marketing.
By sending the initial text to Gillette, you have given them permission to "push" text ads promoting their products on a recurring basis (or when applicable). First you must get permission to do this.
Gillette gives away a free Fusion razor, but gains the ability to send targeted mobile ads to consumers after they have granted permission.
The value of a qualified mobile lead and the ability to promote future products is worth far more than the cost of one Fusion razor
.
I don't know if the blame lies on Trump or the contestants on why
these mobile marketing campaigns failed
. I'll give the contestants the benefit though, because I don't think they know the "rules" for a text message campaign. Gillette should have told Donald what they are though.
It was obvious there was no focus on the brand or getting the word out about Fusion
. It was simply to try and get as many texts as possible. The problem with this is that Gillette couldn't use these "leads" because one team didn't even tell people why they were sending a text!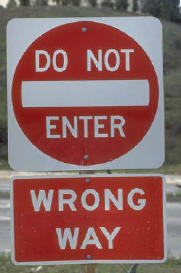 The big disappointment came with
the actual show and what
HipCricke
t didn't do.
Mark Burnett
is a creative and talented guy. He was
looking for a mobile marketing company that shares this type of creativity
. He wants innovative thinking for the next way to promote his shows and advertisers on the show. Did he get it?
In the previous hour people had the chance to text to win a briefcase with $10k on the Deal Or No Deal show.
What a perfect set up for ANOTHER text messaging campaign.
Not only do you have the attention of millions of viewers Monday night, but they rerun the same show a few times during the next week on CNBC. Think of those eyeballs you have.
Gillette had the opportunity to reach millions of potential consumers last night
, and after the first 5 minutes you never heard the word Fusion or Gillette. If the contestants couldn't figure out how to promote the brand via mobile marketing campaign, then HipCricket should have.
Not only did they NOT promote a shortcode
during this show, I had to pause my DVR to see what the number was. When I did text, I got a text back saying
"Mobilise ur marketing +continuity programs with HipCricket".
What? You're promoting your mobile marketing service to an Apprentice viewer?
You had millions of eyes available for a creative text messaging campaign involving Gillette and you dropped the ball
. There was NO interactivity with the viewer.
How much creativity does it take HipCricket to create a mobile marketing campaign that allows viewers to send a text to the shortcode giving them the ability to win a free Fusion. Run a little banner at the bottom "Text the word FUSION to 36617" to win a free Fusion.
After that banner,
I would have had Donald or Mark Burnett in the next segment cut in an explain in a very brief way how to send a text message on a cell phone
. Why? Make it so easy for people to send a text the next time. You will also be leaving your shortcode on the phone for the next campaign. It will also be your platform for future advertising campaigns.
Gillette has a family of products (shaving cream, after shave, blades etc) geared around the Fusion razor. They have spent a lot of money creating the razor and
I'm sure they wanted some creativity in promoting it too.
Would Gillette have given away 100k free Fusion razors to get a few hundred thousand or million plus, qualified mobile leads? Did HipCricket ask if they could do something like this?
What I am trying to find out is
what role did HipCricket play in promoting anything involving the mobile or Fusion last night?
What value, if any did they add to the show via mobile marketing?
The point I am trying to make is that just because you have your own shortcode, doesn't mean you qualify as a mobile marketing company
. A good mobile marketing campaign involves creativity and brand awareness. I saw neither last night.
If I was The Donald I would have brought HipCricket into the boardroom and said "You're Fired!".