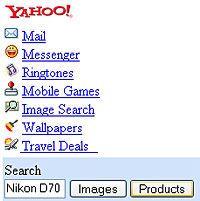 The mobile space is heating up.
Finally the majors are realizing there are almost 3 times as many cell phones as there are PC's
From Washington Post
Yahoo to launch new mobile service with SBC
Yahoo Inc. is set to roll out new wireless services, taking advantage of advanced networks and cellphones to provide features similar to those available on computers, the Wall Street Journal reported on Monday.
Yahoo soon will
introduce a cellphone it will sell through a partnership with SBC Communications,
according to SBC executives. The phone will take Yahoo a step closer to linking music, photos and email with consumers' existing online accounts, address books and preferences, the paper said.
What happens
when advertisers and brands sense this urgency
? There will be a tipping point for mobile marketing.
The tipping point will come when forward-thinking brands/advertisers realize THEY DON'T NEED Google or Yahoo for mobile marketing
.